| | |
| --- | --- |
| CADinTools for CorelDRAW Installation Guide | |
Adding Icons to the Toolbar (Only for CorelDRAW11 and CorelDesigner10) :
Once created the Toolbar, you have to add the description and icon to each button: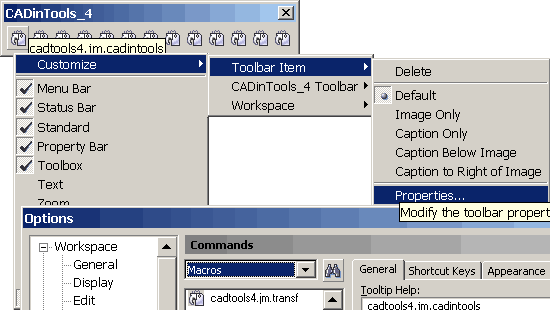 Open Corel DRAW11 or Corel DESIGNER10.
Right Click with the mouse over the CADinTools Toolbar and select ´Customize>Toolbar Item>Properties...´
The Options window will open.
Select Macros in the Commands List. (only if it is not selected)
While the Option window is open, select the button you want to modify in the CADinTools Toolbar.

In the General tab (above snapshot) Fill the ´Tooltip Help:´ with the appropriate description for this button.
In the Appearance tab (below snapshot), Click the Import List and click on the [Files...] button.
The Open Window will be shown, (The icons are located in c:\Program Files\CADinTools)
Select the correspondent icon, (if you have selected the 1st button from the left in CADinTools toolbar, the correspondent icon is the 01*.ico, and so on)
Repeat Item5 for all the buttons in CADinTools toolbar.